Fall from Heaven is a mod for Civilization IV. Though as a mod, it is a total conversion and undoubtedly adds more assets than the original game had. Civilization IV was historical in theme. Fall from Heaven is based in the dark fantasy world of Erebus. Gods, Vampires, Golems, Demons, Mages and the most mythical of creatures Ninja-Pirates take the place of tanks and riflemen. And Dragons...
So, here is the deal. I'm going to play a game of FfH2, and essentially blog about if from a strategic perspective. Think of this as an After Action Review, complete with screenshots. However, I will occassionally ask for the readers' opinion on what course of action I should take. The focus of the write up will be on strategy and won't be written "in character," though I do plan on including flavor exerpts. Since not everyone will be familiar with FfH or even CIv4, I'll discuss relevant points as we go on.
To get me started, please pick from one of the following nations.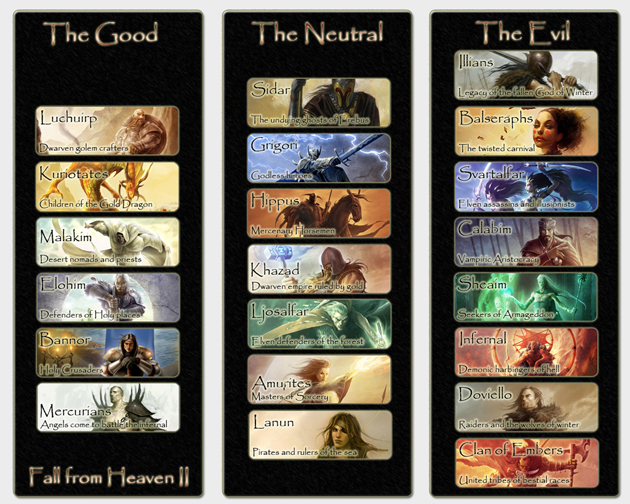 First nation to get 3 votes will be the chosen one. However, I am not interested in playing Kuriotates, Mercurians, Sidar, Grigori, or Infernals. So, please pick a different nation.